Interview with Vicky Bartzioka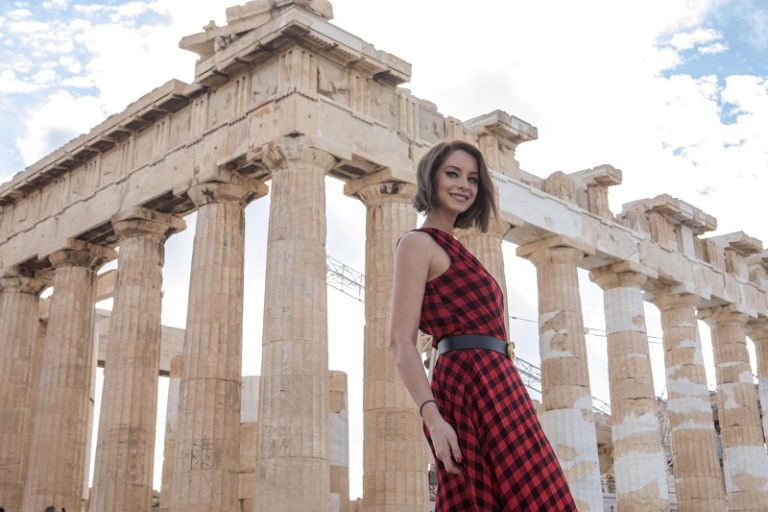 Interview with Vicky Bartzioka
Interviewer: Dimitrios Kannavos
Supported by: Hellenic Media Group
By Dimitrios Kannavos
Resume Vicky BartziokaVicky Bartzioka was born and raised in Athens, in a blue collar loving family. A family which made sure that Vicky knows and values love, hard work, friendship and ethics. From a really young age she discovered she had a deep passion and interest about modeling. Some things in life happen because an individual puts in a lot of effort into something and some other things happen because of destiny. In Vicky's case, it is a bit both with a pinch of magic. At the age of 14 she wrote and sent a letter to the late Michalis Aslanis (One of the top Greek fashion designers) Believe it or not, Aslanis himself called the number he saw on the letter and invited her to his atelier! I remind you this is before the social media platforms blew up, no Instagram, No Facebook, No Tik Tok. A pen, a paper and a few words written by a young girl who had a lot of passion and a dream. It sounds like a fairy tale, but this is really how it went down.
Michalis called the number he saw on the letter and invited Vicky and her mom to his atelier. When he saw her, he immediately recognized her talent and immense potential so he quickly worked his magic and boom! Vicky was signed by one of the biggest model agencies in Athens at the age of 15. Two years after, she was able to show her potential and unique, timeless beauty to the whole country of Greece, since she attended the national beauty contest which she won the title of "miss young." (The highest award in the competition for a woman of her age at that time)That recognition was what she needed in order to take the next step in her career, but the steps quickly became leaps. She was booking commercials, photoshoots, runway shows, she ended up working with very prestigious artists such as, George Lanthimos, (Oscar nominee director) Sakis Rouvas, (Greece's biggest pop star and now famous TV host) Tryfon Samaras (Arguably the most famous Greek hairstylist) and she steadily worked with world renowned brands such as L'Oreal Paris, Wella, Levis and she did a few Heineken commercials.She had photoshoots for the biggest Greek fashion magazines, but this was just the beginning. Vicky is a person who always challenges herself and constantly steps out of her comfort zone. The first step outside of the boarder happened in Lebanon, when she booked a huge campaign with a lot of photoshoots and commercials for a huge soda company. The second step, was even bigger. At the age of 18, she boarded a plane and nine hours later she landed at JFK airport in New York to write the next pages on the book of her life. For a few years, she stayed in the "Big Apple" where she kept working as a model steadily, booking photoshoots left and right, meeting new people. Like she says, living in New York all these years taught her a lot of things about modeling, life and people over all, but as we mentioned already Vicky likes new challenges. A few years down the road, she kissed the cold weather of New York bye-bye and embraced the California sun! Hollywood hills, Venice beach, surfing, bike rides by the sea, driving a convertible on the famous Pacific Coast Highway, were new add-ons on her daily life. Los Angeles, the entertainment capital of the world, became instantly Vicky's new home and it has been since. She kept working as a model – since LA has a huge and ever-growing fashion industry – but at the same time she discovered another passion of hers, theater. First, she purchased the historic Tamarind theater. A building with 92 seats on Franklin Avenue, where she was responsible for various creative and very successful productions like the one of British famous director Di Trevis, but arguably, the highlight of this venture was George Clooney – whom at that time was taking his first steps as a director – using the venue for his HBO documentary, "unscripted." Then Vicky attended and graduated with A+ the Lee Strasburg acting school, one of the most prestigious acting schools in Los Angeles and at the same time she affiliated herself with a plethora of philanthropic causes, but she is not done with modeling. She still does photo shoots, talks and meets new photographers about new trends, new locations, new ideas. Vicky, transforms in front of the camera. When the lens is looking at her, when the photographer hits the button and the shutter goes "click," Vicky for one more time fulfills her biggest passion and lives her dream. And then, when the day is over, she drops the hat of the model and puts on the hat of a human who cares, she makes sure to give and to help others through her philanthropic action. Always humble, always with a smile on her face, always with an open heart, always ready to genuinely help others and of course, always ready to spend days, even weeks to find the next interesting location, to find the next interesting outfit, to pose in front of the camera, to listen to the shutter speed going off, one more time.
This is Vicky Bartzioka and her story is not even close to being over.
Dimitrios Kannavos : What inspired you to want to become a model at the age of 14?
Vicky Bartzioka : Since when I was a kid, I was fascinated by runway shows. The makeup, the hair, the styling, the music, the ambiance, the attitude. I quickly realized that the people who were affiliated with each show, they were exceptional artists who used fashion to express themselves artistically. That is why when I began modeling myself, I mostly did editorial work for various fashion magazines.
Dimitrios Kannavos : Which model was your fashion icon?
Vicky Bartzioka : It is almost impossible to only mention one model, but of the top of my head my top three would be, Linda Evangelista, Grace Jones, Kate Moss.
Dimitrios Kannavos : Tell us a few things about your acting experience.
Vicky Bartzioka : I was looking for something new to me at that time and I signed up and graduated Lee Strasberg theater school. This method I was taught and the whole process of being surrounded by so many talented individuals, helped me see the world through a different perspective. I did not really have the aspiration to become an actress, even though I deeply love the theater arts.I was just looking to challenge myself and do something outside of my comfort zone to help me battle my stage freight. Now looking back, I see that I made the right choice, because I gained useful knowledge and I made a few good life-long friends.
Dimitrios Kannavos : How important to you was to have the full support of your family?
Vicky Bartzioka : Highly crucial and highly important. I was still a teenager when I decided to jump on that plane and cross the Atlantic. I wouldn't have been able to do this without the support of my family. I am glad that not only they let me take this big step, but they also encouraged me. Even to this day, my family supports me 100% with the choices I make. I am, and I will keep being very grateful about this
Dimitrios Kannavos : When you took this major step and you left Greece, do you think this was something that improved your career?
Vicky Bartzioka : Quite the opposite actually, In Greece I was already a very established model, with a huge portfolio and just with a few years of modeling experience, I had already worked with every major magazine, photographers, directors and I was already successfully expanding to other countries in Europe. I decided to leave everything behind me and to start fresh, in a different country, market and culture. I never wanted to be famous, all I ever wanted was to accomplish my dreams and my goals. Goals, which I kept changing, revamping and redesigning through the years as I was getting inspired by different and new to me things. I was doing shows and photoshoots for fashion, I owned a theater, then I owned a successful company. Now, I am doing something new and different. I always reinvent myself and hopefully, I will never retire. The two thousand miles trip starts with a single step, but the way I see it, is that I've only taken five or six steps so far.
Dimitrios Kannavos : Did you face an adversity which made you think that maybe you should return to your hometown?
Vicky Bartzioka : I did. There were times that things just wouldn't go right. Whatever could have happened, was happening. But when in doubt, zoom out. Now, looking back, I am grateful for these moments. They made me who I am, they made me a better person and they forced me to make hard decisions, decisions which I made under pressure and thank God, it turned out they were the right ones. In life you win some, you lose some. But at the end of the day, no matter how much I lost or won, I never thought of going back.
Dimitrios Kannavos : Have you fulfilled all of your dreams, or should we wait more from you?
Vicky Bartzioka : As I said before, I don't think that I will ever fulfill all of my dreams, since every once in a while, I develop a passion for something different and new to me. Some things, that naturally, I will try to perfect and master until I move eventually to the next thing.
Dimitrios Kannavos : Lately we see more women being abused and murdered. What is the message you send out there to women?
Vicky Bartzioka : This is indeed terrible and inhumane. Me first as a human and then as a woman, I am deeply sad by such incidents. My only message to those women, – including my sisters, my mother, my friends and every woman on the planet – is to speak up and to not tolerate such a behavior. I want to believe that if we all work together, (men and women) we can prevent such incidents from happening and please, to all the mothers out there, educate and teach your children about respect and ethics. Only via education we can assure that this will stop happening, forever.
Dimitrios Kannavos : Love and being In love… How important is this in your life?
Vicky Bartzioka : Either I am in love and I feel sorrow in a comical way, or I am logical and bored to death.
-Malvina Karali.
Dimitrios Kannavos : Who is the perfect partner for you?
Vicky Bartzioka :The one I am madly in love with while at the same time, he is madly in love with me.
Dimitrios Kannavos : Your love for animals is well known, please tell us a few things about it.
Vicky Bartzioka : Take any animal you like and look at it directly into the eyes. Then ask yourself this question: Have I seen more innocence into someone's eyes?
Animals are the epitome of innocence. Eyes are the mirror of the soul.
Dimitrios Kannavos : Describe to us an ordinary day in Los Angeles.
Vicky Bartzioka : I wake up in the morning, usually around 7 am and I take Bella – my dog – out for a walk. Well, to be honest, my dog walks me…
Then it is time to make myself a light breakfast, shower and hit the gym. Then, I look at my calendar and I tackle one task at a time.
When work is going on then I'm in the zone it just depends what projects I'm a part of, when things are a little bit more relaxed, I like to stay at home, watch a movie or, go out to places with my friends
Dimitrios Kannavos : What did you do during the pandemic?
Vicky Bartzioka : Well, in this unprecedented times I managed – somehow – to stay calm and to use the extra time to read more books, watch more movies, exercise more, spend more time with my dog, a few close friends and to clear my mind and to envision a better future.
Dimitrios Kannavos : What are you afraid of and what you despise?
Vicky Bartzioka : Losing my health is probably what fears me the most. I don't despise anything and I say this in all honesty. It took me years of meditation, reading and self-healing to finally be at a point in my life which instead of reacting to something, I embrace it and I try to understand it and if I don't understand it, I let it go.
Dimitrios Kannavos
It has been an honour talking to you, Vicky Bartzioka! I am certain our readers will enjoy learning all about these wonderful things you engage yourself with.
Vicky Bartzioka
It was a pleasure talking to you too, Dimitris! I thank you as well and wish you and all the readers happy season's greetings! Merry Christmas and a happy new year full of love, joy and creative happy moments!